PASTA+POMODORO 2
Here's how you can make Mulino a Vino's PASTA+POMODORO 2 at home.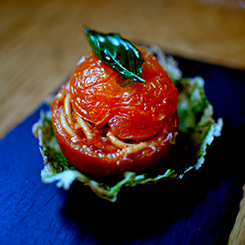 SERVES 4
FOR THE TOMATO CONFIT
4 nice heirloom tomatoes
1/2 cup EV olive oil
1 oz granulated salt
1 oz granulated sugar
1 sprig rosemary
1 clove garlic
—
Preheat oven to 280ºF. Cut off the top of the tomato, and scoop out the pulp with a spoon, taking care not to break the skin of tomato. Set the pulp aside for the sauce.
Season tomato shells and tops with oil, salt, and sugar. Break up the rosemary sprig and clove and sprinkle across a baking sheet. Place tomato shell and tops on the baking tray, leaving about 2-3 inches between each tomato. Place in the oven and bake for 20 min.
FOR THE SAUCE
pulp of 4 tomatoes (from above), blended
1 oz soy sauce
2 oz concentrated tomato paste
1/2 cup EV olive oil
1 pinch sugar
20 basil leaves
4 oz tomato puree (canned or fresh)
—
Blend all ingredients together in a blender, and then pour sauce into a big pot. Cook for 20 minutes on medium fire.
FOR THE PASTA
7 oz spaghetti
3 oz parmesan, grated
1 oz butter
salt, to preference
—
Bring an abundant amount of salt water to a boil. (I recommend about 2 teaspoons of salt for every quart of water.) Cook spaghetti for 8-10 min until it is al dente. When the pasta is done, remove from water with tongs, put in the pot with tomato sauce and stir.
Continue to cook tomato sauce and pasta on medium heat for two min. After 2 min, add parmesan cheese and butter. Stir for 1 min. With tongs, place the pasta and sauce inside the confit tomato and close with the tomato top.
FOR THE PARMESAN CHIP
To make parmesan chips: grate parmesan cheese on a sheet of baking paper the size of plate. Microwave on high for about two min. Place tomato on top.